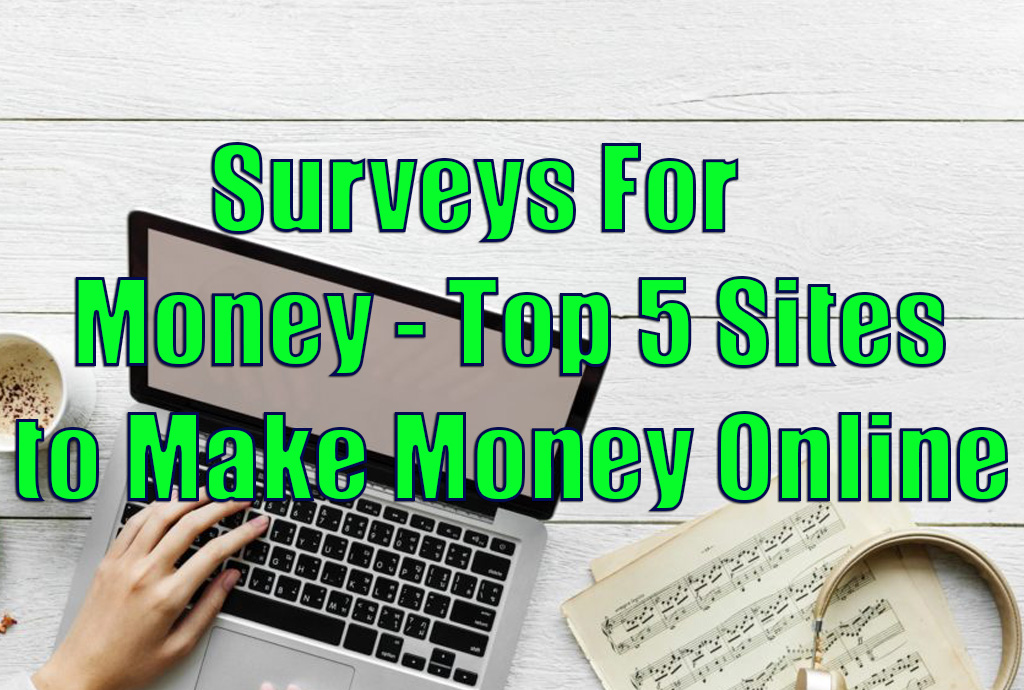 Whether you're looking for surveys for money, or a site that pays out cash, there are plenty of ways to make money online. It just takes a little time and effort to find a good site.
Vindale Research
Founded in 2005, Vindale Research has a number of paid surveys that can earn you some decent money. The site also offers a Fraud Awareness Guide to protect you from scam artists.
Vindale Research has one of the most extensive survey libraries around, with hundreds of new surveys delivered each day. Taking surveys can be fun and rewarding, with the average pay rate averaging out to $1 to $15 per survey.
The first time you sign up, you'll be asked to fill out a quick profile. You'll need some basic information like your name, email address, zip code and phone number. In the end, you'll get a confirmation email.
Ipsos i-Say
i-Say is a survey site owned by Ipsos. Ipsos is the largest market research firm in the world, with more than 16,000 employees and offices in 88 countries. It has an A+ rating with the Better Business Bureau.
i-Say allows users to earn points that can be redeemed for prizes, gift cards, and cash. You can choose from many different rewards, including e-gift cards, Amazon vouchers, PayPal cash, and Visa pre-paid cards. The points you accumulate can also be donated to a charity of your choice.
Ipsos i-Say offers a mobile app that makes it easy to take surveys. It also allows users to create polls. These are not like regular surveys. They are 'yes or no' questions. If you correctly predict the outcome of a poll, you can win prizes.
LifePoints
Taking surveys is a great way to earn money, and LifePoints is a good way to do it. They offer gift cards to popular vendors and you can redeem your points for cash via PayPal. This program is free to join and requires little effort to get started.
LifePoints is a market research company that offers a variety of ways to earn. It has over 5 million members in over 70 countries. The site is simple to use and complies with industry requirements.
There are several survey opportunities available, including micro-surveys, mini-polls, and location-based surveys. You can earn a small amount of money, or you can influence the decisions of big brands.
Qmee
Using Qmee surveys to get paid is a good way to make some extra money. You can earn cash from searching the web, playing games, taking surveys and more.
In addition, you can also earn a few bucks through referral programs. You can even make a few bucks by donating your rewards to a charity of your choice.
While you can make money with Qmee, it isn't going to replace your full-time income. You can earn a few cents for every survey you complete, but you're not likely to get rich.
In order to participate, you must be at least 16 years old. You can sign up for an account through Facebook or by email. You can also join via an extension that's installed on your browser. The extension tells you about new surveys and allows you to check your balance.
Prize Rebel
Basically, PrizeRebel is a membership rewards platform that pays users for completing surveys, watching videos, and referring others. The site's payouts range from hundreds of gift cards to PayPal deposits.
The first step is to create an account and provide an email and password. The next step is to complete a profile questionnaire. This questionnaire asks for your name, gender, age, birthday, ethnicity, and education level.
Once you've completed your profile questionnaire, you can start searching for surveys. There are many different types of surveys to choose from, so take your time. If you are interested in earning money, it is important to select the right survey type for you.
InboxDollars
Whether you're looking for a new job or a way to boost your income, InboxDollars surveys can be a great source of cash. The site offers a wide range of different opportunities to earn money, including surveys, games and product testing.
InboxDollars is a legitimate company that has paid out over $80 million to members. The company provides a variety of rewards, such as gift cards and prepaid Visa e-cards. It also has a social media account and in-house live chat facility.
When you sign up, you'll have to fill out a profile. This is where you'll answer questions about your household size, your income, your travel history, and other details. This will help the company match you with surveys.
Getting Paid to Write Articles
Getting paid to write articles is a great way to earn a little extra cash in your spare time. And, when you write articles that are popular and interesting, you can get paid more for each article that you write.
Narratively
Getting paid to write articles is not a new idea, but the advent of the internet has made it easier than ever for writers to find work. This has opened up the floodgates to freelance marketers who are looking to expand their reach and build brand recognition in the process. Similarly, creative professionals are looking for new and exciting ways to pay the bills. Despite the plethora of options available, finding high quality paid work is oftentimes a daunting task. The good news is that many online and offline publishing platforms offer pay per article options to suit the needs of any writer, from the novice to the seasoned pro.
Penny hoarder
Getting paid to write articles for the Penny Hoarder is a great way to make some extra money. This website is well known for its guides and tips on personal finance and saving money. They are always looking for new writers to add to their list of contributors.
You can get paid to write articles for the Penny Hoarder by following a few simple guidelines. You'll need to contact the editor to discuss payment. You'll also need to submit a written agreement before you begin writing. If your article is approved, you'll receive a cash payment of up to $75.
The site is open to articles on parenting, wellness, money, and careers. The articles vary in length, but they tend to be 700-900 words in length. The length of your article will depend on the topic you're writing about. In addition, you'll need to make sure your article is original.
FreelanceMom
Despite the fact that FreelanceMom gets paid to write articles, it's not the only site out there to be proud of. For example, MoneyPantry gets close to $250 for a post about people with disabilities. Similarly, Mom News Daily provides parents with credible and useful information on pregnancy, baby care and parenting. It also happens to be one of the most popular websites for moms.
FreelanceMom pays its writers through Skrill and Paypal. It also has a Facebook page, a Twitter feed and a Pinterest board. Aside from the usual suspects, FreelanceMom is a great source for actionable insights for professional moms. If you are a writer, FreelanceMom is ripe with opportunities.
Smithsonian
Whether you're a freelancer or an amateur historian, Smithsonian pays you to write articles. If you're not the doting type, you'll be happy to know that they have a policy that requires you to fill out a one page profile before you can submit a piece of writing. They'll then review your work and make you a cash payment if they like it.
If you're interested in a writing career, it's a good idea to find out which websites are more likely to give you the opportunity to be published. The best part is that most of them are open to newbies. Those looking to test the waters will be rewarded with an enticing range of writing opportunities.
In-flight magazines
Getting paid to write articles for in-flight magazines is one of the best ways to promote your business to a captive audience. These magazines are a great way to reach travelers with specific interests.
There are a number of airlines that specialize in travel publications. Some are geared toward younger or older travelers. Others are targeted at specific demographics, such as business people.
Some of the most well-known in-flight magazines include Alaska Airlines Magazine, Delta Sky, and United Hemispheres. These magazines pay for articles, with the average rate being around $125 per post. In addition, these magazines provide an editorial calendar and contact information.
Some in-flight magazines are owned by publishers. For example, American Airlines' American Way is published by Ink Global. These magazines also advertise with individual airlines.
Earn $100-$1000 Weekly Using Easiest Copy-Paste Income Method
Getting Paid to Be an Online Friend
Getting paid to be an online friend can be a great way to make some extra cash. Whether you're looking to earn a few extra dollars, or you want to start a side business as a digital nomad, there are plenty of opportunities to help you make money.
Rent-A-Friend
Getting paid to be an online friend can be a great way to make money. However, there are some things you should know before joining a site like RentAFriend. You'll also want to be careful when meeting new people.
There are several websites that offer this service. The main difference between them is that you can set your own rate and how much you'll be paid. There are also sites that allow you to make friends through a virtual game or even life coaches.
There are two major sites: Rent a Friend and Rent a Cyber Friend. Both are legitimate websites. You can search for potential friends through a profile, and decide which one to join.
Papa
Getting paid to be an online friend can be a great way to earn extra money on the side. While it's not for everyone, it can be a very rewarding side gig. There are many options available for you to choose from.
You can be an online friend to people who are in need of help. For example, you could be a chat buddy for someone who is struggling with a relationship. Depending on the services you offer, you may be able to charge higher rates. You can also teach a foreign language to a child or adult who needs to learn.
You can also work for Papa. Papa is a service that connects students with current or former students who match their academic profile. This service is ideal for college students who are looking for an extra income. You can also offer your services to older adults who need companionship.
Text121Chat
Getting paid to be an online friend can be quite rewarding. It can also be a good way to learn new skills and build confidence. However, it's important to understand the differences between platonic services and dating sites.
If you want to get paid to be an online friend, you need to choose a platform that will make you feel safe. Some websites offer an extra notch in safety, such as payment protection. This means that if you ever decide to quit, your payments will be reimbursed.
Luckily, there are several sites to choose from. Some of the top players in the friendship space include Rent a Friend, The Chat Shop, and Phrendly.
Rent a Cyber Friend
Getting paid to be an online friend is a fairly new phenomenon. There are many websites that allow you to sign up for a service and become a virtual companion to people from all over the world.
Some of these sites are free to join and you'll earn money without ever leaving your home. Others require a monthly subscription fee. If you're looking for a way to make money with your spare time, then this may be a good fit for you.
Rent a Friend is a website that allows you to meet and hire virtual friends. You can also find virtual girlfriends and life coaches. It's a great way to improve your confidence, increase your mental health, and learn new hobbies.
Chat Recruit
Getting paid to be an online friend is a great way to earn extra money. You can earn as much as $2000 to $3000 per month, depending on the number of hours you spend. The key is to find the right platform for you. There are many different sites to choose from. However, it is important to do your research and to follow certain safety tips.
If you want to become an online friend, you should sign up with a site that you can trust. You should also make sure you read the profile of the person you are talking to. Never give out your personal details.
Make money as a digital nomad
Getting paid to be an online friend can be a great way to make money. There are a number of platforms that will pay you to write articles, answer questions, or provide advice. These platforms will ask you to tell them a bit about yourself and your hobbies.
You may be wondering how to get started. One of the best places to start is by networking with other digital nomads in your area. You can find these communities on sites like Nomadlist.
You can also get in on the action by starting your own business. This will allow you to work from anywhere in the world. You will need to be committed to your business in order to succeed. You will also have to have a savings plan.
How to Make Money Online With Google
Using the services offered by Google you can easily make money online. You have options like AdSense, Opinion Rewards and Google Checkout. You can also earn money on YouTube.
AdSense
Creating a website and displaying ads through Google AdSense can help you make money online. The program is easy to join and can help you generate some income from your online content. But there are some key points you need to keep in mind.
The first step is to register with Google. The application can take as long as two weeks to process. After you have registered, you will receive an email confirmation. You will then need to add a small amount of HTML code to your website.
You can then choose the type of ad you would like to display. You can select Text, Display or Video ads. The cost per click (CPC) depends on the niche of your website and the level of competition. If your website is popular, you could earn up to $15 per click.
AdMob
Using the Google AdMob has been a boon to developers. It gives them the opportunity to generate extra income from their android apps. But how does AdMob work?
As an app owner, you can control what kind of ads appear on your app. You can also choose when to display these ads. You can even select which categories they should fall under. This will prevent your users from being distracted by irrelevant ads.
In addition to this, AdMob can help you earn passive income. This is a great way to make money without having to do too much. In fact, a simple calculator can help you determine how much you can earn this way.
In order to get started, you need to sign up for an AdMob account. Once you have an account, you can add your app to the Google Play Store.
Google Checkout
Earlier this year, Google introduced its new service, Google Checkout. It is designed to make it faster and easier to buy online. In addition to speeding up transactions, the service will also allow users to keep their email addresses private.
The service works by linking a credit or debit card to your Google account. You will be prompted to enter your card information when you're ready to check out. The money will be stored in your account balance.
You can use the service to purchase items from a website or mobile app. You may be prompted to provide shipping address and payment information. You can then check out with a quick tap.
If you have an Android phone, you can install Google Pay. This app allows you to add your credit card and debit cards to your wallet. It is pre-loaded on most phones. You can even add gift card balances.
YouTube
Creating videos on YouTube is a great way to earn money. Whether you are an experienced video producer, musician, or just love to talk about your favorite niche, you can earn good money by creating videos on the site.
One of the most common ways to make money with YouTube is through affiliate marketing. By creating videos that promote a specific product or service, you can earn a percentage of the sales. This is particularly useful for products that are related to your niche.
Another popular way to monetize your videos on YouTube is through sponsored content. This allows you to negotiate deals with high-paying companies. You can also create your own products, such as courses and eBooks. You can sell these to your subscribers, who will turn into customers.
Opinion Rewards
Using the Google opinion rewards app is a great way to earn some extra cash. This app is easy to use, and will let you earn some money by answering surveys. There are a few things you need to know, though, before you can start generating money.
First of all, you need to sign up with a Google account. This is a quick and simple process, and you can get started in less than two minutes. In addition, you will need to download the app. Then, you will need to read the terms of service. You will also need to give the app permission to access your location.
You will be asked to answer a few questions about yourself. The answers will help the system find surveys that are relevant to you. Typically, surveys take about 10 seconds to complete.
Make Money Online Up To 1k/Day Using The Fail Proof Method
Surveys That Pay Cash Instantly
Getting paid instantly by taking surveys is a great way to make some extra money. But there are a lot of things to keep in mind when you're planning on taking a survey.
Toluna
Taking Toluna surveys can be a quick and easy way to earn extra cash. You will need to complete a few surveys to get started. In addition, you will have to create an account. You will then be able to receive email notifications of new surveys that you can participate in. You can also do these surveys on the go with the Toluna app.
You will earn points for completing surveys and other tasks. These points can be redeemed for gift cards or PayPal cash. The amount of points you can earn depends on the survey. If you answer more questions in a survey, you will earn more points.
i-Say
i-Say surveys that pay cash instantly are a great way to earn a little extra money. However, there are some things you need to know before you sign up. The more you do, the better your chances of winning.
You can make money with i-Say by answering their surveys and polls. They aren't very complicated and don't take a long time. You can do them from a computer or a mobile device.
i-Say has a loyalty program that rewards users with points. These points never expire. They can be redeemed for cash, gift cards, and other goods. You can also invite your friends to join i-Say and you'll get 100 points for each person who signs up.
Branded Surveys
Whether you're looking for a way to earn some extra cash, or a full-time online income, Branded surveys can be a great option. The platform is free to join and offers competitive rewards.
Branded surveys pays members for their opinions and feedback, which can help companies create better products and marketing campaigns. The company partners with market research firms and Fortune 500 companies.
There are many ways to get paid through Branded Surveys, including gift cards, PayPal cash, and other methods. However, users must be careful to answer all survey questions correctly. You may also run into issues such as account problems or the point system not working properly.
Pinecone Research
Taking surveys can be a great way to earn extra cash. If you are looking for a website that pays cash for your opinions, Pinecone Research is a good choice.
This survey company has been around for more than 20 years and they pay well. It does not take much time to join and get started. In fact, you can complete one survey in 15-30 minutes.
Pinecone Research also offers several redemption options, including cash, virtual gift cards, and physical merchandise. The minimum redemption amount may vary. For example, you can receive a $10 gift card with a minimum redemption of 300 points.
SurveySavvy
Taking paid surveys is an excellent way to earn extra cash. If you're willing to give up some time each month, there are several websites where you can complete surveys to earn cash. Some sites even offer gift cards and other incentives. But which site offers the best rewards?
SurveySavvy is a website where consumers can participate in surveys to earn money. The site is free to join, but you have to provide some personal information, including your name and email address. It is important to complete your profile carefully, as inaccurate responses can be a major drawback.
MyPoints
Besides paying out cash, MyPoints offers other ways to earn, including surveys, games, coupons and more. In addition to this, MyPoints has a mobile app that allows you to easily access your account from your phone.
MyPoints is owned by Prodege, LLC, a company that also owns other leading rewards sites. Inboxdollars, Swagbucks and others.
MyPoints is a rewards site that has been around for many years. The website is user-friendly and the signup process is quick and easy. The dashboard is also easy to use. You can get a point for just about everything, from completing a survey to reading an e-mail.
Respondent
Whether you are looking for an opportunity to make a little extra cash or are interested in working with research companies to get feedback, Respondents of surveys that pay cash instantly can help you. The site is an online research marketplace that offers a variety of different opportunities to earn.
The first step to joining Respondent is to create an account. You'll need to fill out a few simple forms with information such as your email, social profiles, and a password. You will then be given a list of available projects. Then, you can apply for the ones that you think you qualify for.
Please click here to start your best home based online jobs .