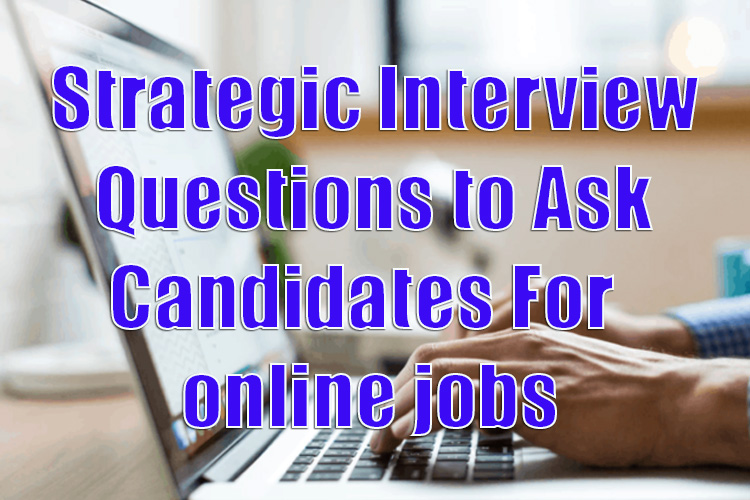 Whether you're interviewing for a new job or just trying to find out more about a potential employee, you may want to consider asking some strategic interview questions. These questions will help you find out more about what a candidate's skills and experiences are, and connect them to what the company needs.
Answering strategic interview questions
Identifying the right candidates is crucial for a company's success. In order to do so, hiring managers must find candidates with the leadership and strategic skills needed to make a positive impact on the organization. A candidate who thinks strategically is more likely to be able to adapt to change and solve problems as they arise.
Interview questions provide a great way to evaluate a candidate's ability to plan for the future and handle problems in real time. They allow you to gauge a candidate's analytical skills, creativity, and knowledge of the industry.
Strategic interview questions help employers determine whether a candidate is a good fit for their company's culture and can be a valuable resource in the decision-making process. In addition, they can help companies identify areas of improvement.
For example, if you're looking for a candidate with excellent people skills, you might want to ask them about their conflict resolution skills. A candidate who's had experience in this area can show you how they've handled difficult situations in the past.
Interview Questions For Managers
During an interview for a managerial position, you will have to answer questions that will help you assess a candidate's abilities to delegate tasks and lead people. This article will provide you with a few examples of interview questions that you can use.
Situational interview questions
During a situational interview, hiring managers ask questions to assess a candidate's communication skills and work habits. These interview questions help identify candidates who can adapt to different working conditions. They also allow the interviewer to examine the interviewee's personality and values.
When answering these situational interview questions, you need to think about how you would respond to a situation in a professional environment. For example, you may be asked to describe a situation in which your co-worker asks you to solve a problem. You can use this opportunity to highlight your leadership and communication skills.
Another scenario-based question you might be asked is, "What would you do if you were the only person to have a key part in a large project?" Having a clear explanation of how you would approach the problem is an important skill for any job. The answer should detail your steps in solving the situation and the results you achieved.
The most effective way to prepare for these interview questions is to develop a list of the challenges you face in the workplace. You should then identify the skills you use to solve these problems. You should also be prepared to answer common follow-up questions.
Motivational interview questions
Whether you are hiring a new employee or trying to find a better fit in your current team, you should have a clear idea of your candidate's motivation. This will help you achieve your company's goals.
The best way to do this is to ask the interviewee a few good motivational interview questions. These should be positive, informative and relevant to the job opportunity.
For example, if you are interviewing a candidate for a manager's position, you may ask a question about motivation. Ideally, the answer should be short, to the point, and specific. It should also be honest. A negative response is a red flag.
You should also make sure to get a sense of the candidate's personality. A good way to do this is to ask about their work experience. You can ask about past achievements, or stressful work situations. You may also want to look up the company's website. This will give you a feel for the organization's culture. You can also ask the candidate to describe the ideal work environment.
Assessing a candidate's ability to delegate tasks
Identifying and assessing a candidate's ability to delegate tasks in an interview is one of the most important factors to consider when hiring a new manager. Having the ability to delegate work can improve productivity and reduce stress on the team. There are several common interview questions that can help you to gauge whether or not a candidate can do this well.
A great example of a question that test's a manager's delegating skills is the one asking what the candidate's process for delegating a task entails. The answer should describe the process as well as the outcomes. This will tell the employer if the candidate has a good understanding of the role and how to best manage it.
In addition to a candidate's delegating style, an employer will also want to know how they handle underperforming employees. This will allow the hiring manager to determine if the candidate has the right attitude and can set firm boundaries for their employees.
Presenting yourself as an experienced leader
During a job interview, candidates should prepare an elevator pitch – a brief description of their previous work experiences. These should include a quick summary of their past positions and their key leadership skills. A good elevator pitch is no more than 60 seconds.
When preparing for an elevator pitch, candidates should research the company and their position. This will allow them to tailor their answers to the specific questions asked during the interview. By doing so, they will be able to make a good first impression and influence people to achieve the goals of the company.
During the introduction, you should be confident and make it sound like you're talking to someone you respect. Using emotional language is also important. It should help people feel connected to you. Besides, it will establish your credibility as a leader.
You should also prepare a personal pitch, which should consist of examples of your accomplishments and achievements. These should include your work history, and your recent positions. The elevator pitch should be no longer than 30 seconds, and should focus on the most recent position.
Earn $100-$1000 Weekly Using Easiest Copy-Paste Income Method
How to Prepare for Teacher Interview Questions
Whether you're applying to become a teacher, or you're a teacher applying to a job, you should be prepared to answer interview questions. These interview questions will help you to assess your strengths and weaknesses, and to determine if you can be successful at your new job.
Developing rapport with students
Developing rapport with students when interviewing teachers can be an exciting time, but can also be a bit daunting. You want to come off as genuine, not pushy. As a new teacher you have the opportunity to make a big impression on your class. This can be a very important first step in your teaching career.
Developing rapport with students is a great way to increase attendance, improve learning, and help smooth out the day-to-day running of your classroom. In addition, a good rapport will help you gain a better understanding of your students.
The best part about developing rapport with students is that it helps you establish trust and build a relationship with your students. In fact, research suggests that rapport is a very important element of effective teaching.
Connecting lessons to the "real world"
Educators are looking to connect their lessons to the "real world" as a way to make learning relevant and fun for students. This can provide a framework for academic development and improve student retention. In fact, the research suggests that when students use real-world problems in the classroom, their knowledge of the subject translates to a whopping 18x more than they would learn from a lecture.
One method for connecting lessons to the "real world" is to invite guests from that realm to visit the classroom. Then, use multimedia activities to bring the lesson to life. These include videos, podcasts, and news feeds. In addition, a quality documentary is a good choice to watch with children. These are just a few of the many ways to engage students in the classroom.
Teaching a student with an IEP
Whether teaching a student with an IEP in a regular classroom or a special education classroom, teachers must understand the IEP process. The individualized education plan (IEP) is a document that outlines the support services that a disabled child will need to achieve educational goals. It is developed by the team that meets to discuss the needs of the child. It can be changed as needed.
Each year, the IEP team should review the student's IEP to ensure that it continues to meet the student's needs. This can be done through an Annual Summary Sheet. This is a sheet that is completed by the multidisciplinary team and includes the student, the parent, and the staff members who know the student best. The IEP team will develop goals for the student's needs.
Dealing with a teacher who isn't performing up to expectations
Trying to deal with a teacher who isn't performing up to his or her expectations can be a frustrating experience. The best approach is to remain calm and to use the right tactics.
One of the most effective ways to improve the situation is to gather information from both parties. You may want to observe the class or contact the school office. Providing feedback to the teacher can be a good way to find out what works and what doesn't. If you have a serious problem with the teacher, you may want to contact the school directly.
A good strategy is to write down the facts you deem important. This could be a single sentence that outlines the problem, or it could be a longer document that lists your concerns and solutions.
Preparing for a demanding job
Those who are applying to be teachers will need to prepare for a wide variety of teacher interview questions. It's important to think about what you're passionate about, and then answer the questions with solid reasons. This will help you stand out among other candidates.
Often, teachers will be asked about their experience in working with children. This is a good opportunity to show the interviewer that you care about the students in your class. It also shows that you're willing to learn and improve.
Other questions that are asked are about how you deal with students and parents. This is a chance to build positive relationships with the parents, which is important for a successful classroom. You can also talk about extracurricular activities. You can also talk about your volunteer work with children.
Customer Service Interview Questions You Should Be Prepared For
Whether you are hiring a new employee or recruiting for a position, there are certain customer service interview questions that you should be prepared to answer. These are based on your experience, and are designed to evaluate your skills, abilities, and overall level of commitment to the company.
Answering behavioral questions
Behavioral customer service interview questions are a good way to determine how well a candidate can fit into the company's culture. They assess a candidate's skills and professionalism. However, they can be intimidating. If you're prepared, you'll be able to answer these questions with confidence.
In general, behavioral customer service interview questions are meant to gauge your honesty and empathy. They are also designed to test your ability to solve problems, interact with customers, and work with other team members.
There are a number of ways to answer these questions. The best approach is to prepare three stories that can be used when asked. You can then practice telling these stories out loud and then try to extempore the rest of the story. The more you prepare, the better prepared you'll be for the actual interview.
For example, a behavioral question may ask you to tell the interviewer about a situation you faced in the past. For this, you'll want to give a description of the situation, the action you took, the results, and the lesson you learned.
Make Money Online Up To 1k/Day Using The Fail Proof Method
Identifying candidates who don't share the same philosophy
Identifying candidates who don't share the same philosophy in customer service interview questions is an important part of the hiring process. Your goal is to find candidates who understand the importance of great customer service.
The first step is to find a good set of questions. It's important to find a mix of questions that assess a candidate's work style, listening skills, and empathy. You can start with questions that ask for examples of how a candidate has handled a specific situation.
Another key area is communication. This is where the best candidates stand out. They should be prepared to discuss their experiences with company products and services. Those who are able to explain how the company has improved its customer experience or their own personal experience with a particular product will be a strong fit.
One of the most fundamental support skills is breaking down complicated ideas into easily understood language. The best candidates will have plenty of experience with this. They will be able to walk you through situations without an immediate answer. They will also have an understanding of how to alert customers to problems that are serious.
Managing time and priorities
Managing time and priorities is a question that many interviewers will ask. It is a common performance-based question, and will assess whether a candidate is effective at prioritizing work and handling deadlines. It is important to be prepared for this question, and to have specific examples that demonstrate your ability to work effectively.
The best way to prepare for this question is to research the company and job description. Then think of examples of how you have handled prioritization and work in a team. You don't want to sound like you struggle to keep track of your tasks. Rather, you should describe a strategy you have used before that will be useful to the company.
You should also be ready to answer questions about your own time management skills. An example of this would be to explain your own system for estimating how long a task will take, and adjusting your schedule accordingly. Then, show your interviewer how you have implemented this strategy to improve your productivity.
Problem-solving aspect of customer service
Keeping track of customer service problems can be overwhelming. You'll need to quickly identify the issue, find a solution, and then take corrective action. Using a structured problem-solving process is the best way to ensure high quality customer service. Ultimately, your goal is to provide a solution that will satisfy the customer.
The first step in the problem-solving process is to identify the issues and describe the customer's situation. Then, develop a proposal that describes the situation, the potential solutions, and any financial consequences. This is a good time to involve other members of your team in the process, as they may be able to help with the implementation. Involving others also helps minimize resistance to changes.
The second step in the problem-solving process is the implementation phase. This is where you get to show the customer that you are really listening to their concerns. When a customer feels like they are being taken care of, they are more likely to come back.
Please click here to start your best home based online jobs interview.